OFFICE & COMMERCIAL
PurityDS exclusively serve London based commercial properties, and strive to deliver professional disinfecting and internal window cleaning services to the highest quality. We have an experienced team, while our Company Director has many years of experience working with and for legal organisations. We are therefore acutely aware of the need for confidentiality and privacy, and will ensure that we maintain this when providing disinfection and or internal window cleaning services. For the peace of mind of Firms, each specialist service visit is completed with certification, and a signed non-disclosure agreement can be arranged. This will be issued or returned as given by yourselves, to ensure your Clients confidentiality is fully maintained. We will also issue a full site-specific risk assessment, method statement, and COSHH assessment upon instruction.
Our Services
Hygiene and sterilization have become incredibly important in light of the current coronavirus pandemic. Our process of disinfection is carried out efficiently and professionally, using 06-30 micron fogging with double atomisation. This produces a mist which has the velocity and reach to disinfect all parts of the tenant occupied space, with a process that is in line with the most up to date Government Guidelines on fogging disinfection to prevent the spread of coronavirus. The equipment we use will sterilize all areas of the office, including IT equipment, workstations, chairs, high touchpoint areas, meeting rooms, reception areas, ceiling supply and return air grilles, WC's, kitchenettes and carpets. We also provide a routine disinfection service. When cleaning internal windows, are aim is to leave you with cleansed, hygienic and perfectly cleaned windows, frames and sills.
A window may look clean on the outside, but if it's not cleaned and sanitized regularly, it will become a breeding ground for bacterial colonies. In most settings, cleaning windows is not a daily affair. It's not even a weekly practice. Hence, microbes grow and reproduce without any intervention.
Old, office windows in commercial buildings may contribute to airborne pollutants. Grime can introduce certain nitrogen compounds which can be released into the airspace – the last thing we would want! Windows are not the best insulation in a building, particularly in older buildings or if dirty windows are poorly maintained. This can cause condensation, and whenever we have damp, humid air and water, we get mold. If we have a mold problem and condensation around our windows, we should consider replacing them with better frames – and above all else, regularly cleaning our window sills and frames.
Cleaning removes the physical dirt, the dust, and other particles from the surfaces, usually the things that we can see. Different to cleaning is disinfection, the process that eliminates many if not all the pathogens or infectious agents that can cause disease and can be found on these surfaces. We cannot see these pathogens or infectious agents, as they are not visible to the eye. The disinfection process and solution we use is specifically designed to destroy these microbes on all surfaces, including windows and mirrors.
PurityDS offer an internal window cleaning with disinfection service to help support you in maintaining a healthy and safe working environment. The best choice we can make for our office and window health is to employ a great internal window cleaning team.
Environmental commitment
PurityDS remain aware of the potential environmental damage caused by disinfection processes. We therefore avoid the use of unnecessarily chemicals where an alternative is available, and are dedicated to purchasing effective products and equipment responsibly. We use ethical products such as QCide or GBPro Eco Antiviral – Antibacterial Disinfectant meeting the standards of EN14476, EN1040 and EN1276, which is in line with government recommendations on disinfecting solutions in the fight against coronavirus. The need to care for and value our environment is essential, and we are fully committed to providing effective, sustainable disinfecting practices which produce safe results.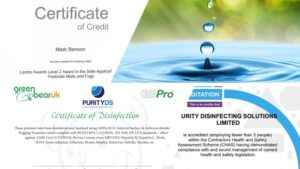 Our Vision
Is to ensure that every commercial business in London has fogging disinfection services available as a reliable and safe control measure.
Our Mission
Is to respond to any commercial business with fogging disinfection technology services that will stop the spread of and kill the coronavirus and other pathogenic microorganisms, supporting their offices to remain open and safe.
Our Values
P– We take Pride is everything we do, knowing that we add value for our Clients.
U– We Use the best products that are available for the disinfecting fogging processes.
R– We are completely Reliable to perform at the highest level.
I– We have Integrity in ourselves and our company.
T– You can Trust us each step of the way to give you the reassurance of our services.
Y– Your safety and working environment is our priority.
D– Disinfection processes is our business and what we do best.
S– Supporting our Clients is why we are here.